Welcome to Our Site
Color Options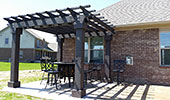 Charcoal
White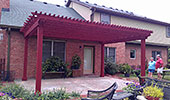 Redwood Tone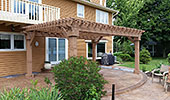 Cedar Tone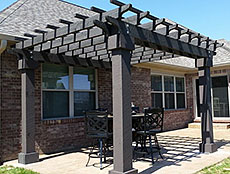 More than ever remodeling to expand on existing homes is the new trend. We have developed an affordable way to help create a vacation destination right in their very own backyard. Why spend thousands of dollars on a room addition or sun room major project when you can spend a fraction on establishing an outdoor living space and creating a beautiful backyard oasis to last a lifetime.
We have re-designed a traditional structure creating an affordable outdoor living extension to the home with a PATIO PERGOLA KIT. "The Genuine Patio Pergola". This is much more than the typical inferior backyard item that can be purchased at the discount store, but significantly more substantial.
At Quality Built Pergolas, our pergolas are among the highest-quality wood pergolas available. Our experienced designers will assist you in finding the style that works best for your décor, and our professional installation team will install your pergola quickly and efficiently. In addition, we also offer pergola kits for DIY homeowners who want to install their pergola on their own.
Providing quality finished products in a timely manner, along with our dedication to excellent customer service, is the heart of our core values. We take pride in our work and as a result, our goal is to always meet and hopefully exceed expectations.
Whether it is a patio pergola for shade or a garden pergola for plants, we look forward to designing and creating your outdoor structure.
Employment Opportunities Available Click Here For Details!