Commercial Pergolas In Illinois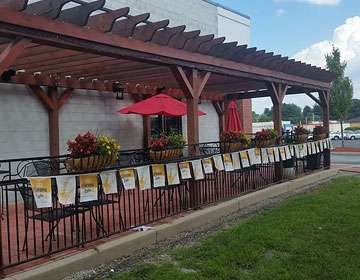 Illinois's mid-continental situation and a generally humid continental climate create ample opportunities for you, your employees, and guests to spend time outdoors enjoying the landscape and views. Well-designed pergolas, made of durable materials, can further increase the comfort, convenience, and amount of time spent outdoors. At Quality Built Pergolas, we are specialists in designing and installing all types of pergolas on both commercial and residential properties. Explore the different options that we offer to enhance your outdoor living experience.
Heavy-Duty Lumber Pergolas
We always strive to bring elegance and durability to the pergolas we design and build. Durability is an even more important factor in commercial outdoors. Our heavy-duty lumber pergola options include a wide range of hardwoods and pressure-treated woods. Pressure treatment is especially used with softer woods to enhance their resistance to mold, rot, and bugs.
Regular and professional maintenance can make your wood pergolas last as long as metal or vinyl pergolas. Each wood has its unique color, grain, and natural aroma. Pressure-treated wood can be stained or painted in colors and finishes of your choice. Besides their aesthetic benefits and excellent durability, wood pergolas also make cost-effective options.
Aesthetically Pleasing Pergolas
With us, you can choose from many material options to achieve the desired aesthetic effects. Rustic heavy wooden timbers, clean vinyl lines, and more modern metal options are some of the most popular options. Every material offers its unique set of advantages and affects the look of your space.
The trendy pergola styles that we regularly install for our clients in Illinois include:
Open-Top Pergolas
Gabled Pergolas
Promenade Pergolas
Arched Pergolas
Pitched Pergolas
With so many styles, materials, colors, and options, it is no wonder why these outdoor features are so popular in all types of settings.
Perfect For Outdoor Dining
We can design pergolas that allow you to create the perfect outdoor dining experience. Standard structures will mostly have open lattice tops. With these structures, there is always the option to add more shade. We can install them with retractable sunshades or can provide fully covered roofs. Depending on your specific outdoor dining needs, we can tailor your pergola structure to accommodate the desired number of people. Commercial outdoors will typically require multiple pergolas to accommodate more guests, visitors, and employees.
Endless Pergola Options
We provide endless design and material options, allowing you to achieve the desired looks and functional goals with your pergolas. Our experienced design team and craftsmen will assess your unique needs to determine whether pergola kits or custom designs are best suited for your project. Next, we will help you choose the right material. As already mentioned, we help you create endless style, design, and color results after assessing your property and needs.
Some of the popular material options include:
Wood: Pressure-treated wooden pergolas are affordable and provide a decent level of durability. They can be painted or stained to achieve the desired aesthetics. Western red cedar is widely popular for pergolas and offers great aesthetic and durability benefits. We also install heavy-duty lumber structures to achieve the desired functional and aesthetic benefits.
Vinyl: If you prefer to have a commercial pergola that does not require much maintenance, we can help you make the right choices with vinyl. Even when the color choices are limited, there is lots of aesthetic versatility to accommodate your preferences.
Fiberglass: If your budget allows, fiberglass pergolas make a lot of sense. They are known for their high durability and the ability to cover larger areas with the structure. Besides, we can paint them in any color of your choice. Their lighter weight and exceptional sturdiness, reduce the need for additional stability structures and fittings.
Whatever your commercial pergola needs in Illinois, we have the expertise, experience, and resources required to transform your ideas into reality. If you want to discuss your goals and preferences to add one or more pergolas to your outdoors, call Quality Built Pergolas at 463-999-6909 or write to us using this Contact Us form.