A Quality Built Pergola is the perfect way to turn your backyard into a great and more functional living area. Providing shade, a pergola is an amazing spot for hanging out with the family, throwing a backyard party and spending a relaxing evening. Pergolas and pavilions are structures that create the perfect focal point for your garden area.
Customer Reviews, Quality Built Pergolas
Quality Built Pergolas is rapidly garnering a solid reputation for designing and installing the most appealing, durable and affordable Pergolas and Pavilions in the United States. Customers across the country are raving about our Amish pre-built Pergolas and Pavilions. Below are just a handful of positive reviews from our esteemed customers, with photos of real-life installations. Read all of our favorable Google Reviews >>
Great experience. Pergola is very sturdy. Dave and Don were very helpful throughout the process. Pergola was cut to my exact dimension. I put the pergola up myself and had no issues with Don's instruction. Would highly recommend.
Nathan Foreman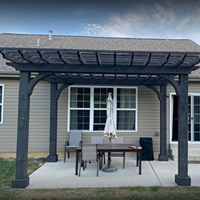 Amazing product and easy to work with. So beautiful!
Megan McCarthy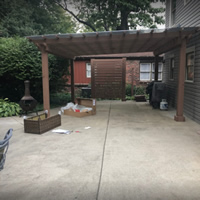 If you are going to add a pergola to your backyard project, I highly recommend Quality Built Pergolas. The materials used are excellent you can tell by how heavy the woods are. They are a bit more expensive than getting a kit from big box retailers but you do get what you pay for. I'm pretty happy with mine and the installers got the whole thing setup in about 3 hours. One advice I can give is once you decided on the size that you want, ask to see one in person so you can be sure it is right for you. Mine was smaller than I expected (I got a 10x12) but I was limited to my concrete base. I can also easily add an extension if I want to in the near future.
Tony Basa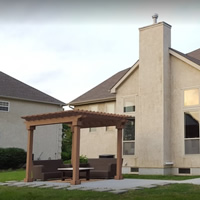 I LOVE my new pergola.. this company is awesome!! Tom came out, not pushy & totally professional. He got me a quote with a computer generated drawing within days and as soon as I signed the contract they set a date for completion. a month to the day, my pergola was built and installed, ahead of time and under my budget. The installers were great.. Levi was in touch prior to arrival and walked me through the process. Professional, on time and great work. Can't say enough about using them. My home is new construction-I've been dealing with contractors for 4 years. These guys are terrific. I can't wait to plant my climbing roses!
ASW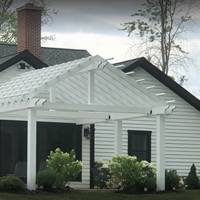 Quality Built Pergolas is a top notch company that does excellent work. We were very happy with the entire process. Mark was very professional and easy to work with throughout. Levi and his team did excellent work with the install. We selected a pergola with a polycarbonate roof and are very happy with the results. It is great to be able to use your pergola when it is raining. We've received very positive comments from our neighbors. They aren't the cheapest, nor the most expensive, but you do get what you pay for with this company. Very solid wood construction and materials. I highly recommend this company. Job well done!
Ed Gash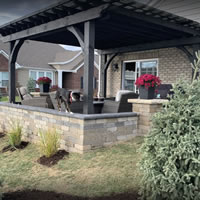 Mark is an honest and fair sales rep. My wife and I signed up to build a pergola in spring of 2018 on his first visit to assess the project. Time will tell how well the pergola holds up, but Mark's confidence in the QBP's workmanship is reassuring. The installation was very efficient, about 3.5 hours. Mark has followed up with me a couple times to make sure we are happy. I have no hesitations in referring QBP to anyone interested in a pergola.
July 2020 Update: The pergola is still standing strong, no known issues. Through two summers and two winters, I have not needed to re-stain it. The color has not faded or peeled, no wood rot at all
Dave N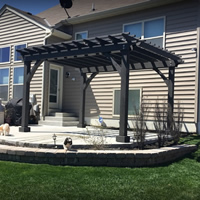 Sandy and I are thrilled with our new Quality Built Pergola. Don and Dustin took the time to listen to our ideas and then offered expert suggestions that resulted in our beautiful new outdoor living area! After an exhausting search we chose QBPergolas. From the initial consultation to the design process and ultimately to the installation, each touch point made us feel like our pergola was the only one they were building. Thank you to the QBPergola Team and a special shout out to Levi & Nathan who kindly and gladly made a last minute adjustment during the install (requested by my wife) So yes, we love our pergola , and we know you will too!
Mark Nickley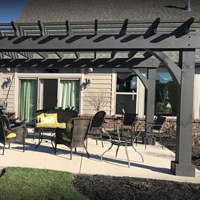 Easy to work with, adaptable, good communication, efficient, quality product. Would recommend to anyone.
Brian Tausch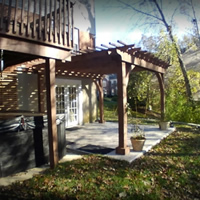 Value design Amish built. Fast turnaround
Joe Large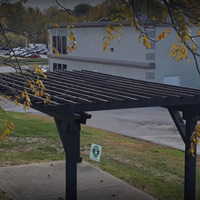 Did an incredible job on our Solar Pergola. Mark was a great salesperson. He went out of his way to help us plan and followed up to make sure everything turned out to exceed our expectations. Levi and crew did an outstanding job on the construction and were able to tweek some things due to a tree stump and electric running differently than expected. Soooo happy with the final product.
Tracy Halker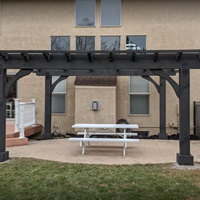 Impressive design, value pricing without any last minute budget surprises. Timely, efficient, dependable.
Dutin & Witney Morris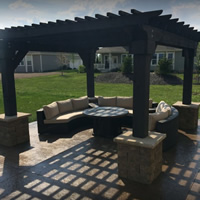 We are extremely pleased with our pergola from this company. The quality of the materials and workmanship is exceptional. Mark was able to work with us in trying to make a decision to go with the polycarbonate roof or not. He did so without pressuring us.We also were impressed with the cleanup, especially considering that they tore down and hauled away our old pergola. We would recommend this company to anyone.
Kathleen Brown

We used this company a few years ago and we received fabulous service, a high quality product, at an affordable price. The company owner and his staff are extremely professional personable and nimble in their response time. More importantly, they listen and understand your needs and your budget. I am now purchasing my second pergola from them - I just signed the contract. Also, they do respond if you have issues with pergola after installation. For example, I had a small crack in one of the cedar posts - they came right away and fixed it and repainted it. The owner is committed to providing the highest level of customer for the short and long term.
Lee Ann Taylor

Gorgeous, professionally and perfectly built pergola that really blew us away. We were looking at pergola kits or a local landscaper to begin with and we're so glad we found Quality Built! Such a pleasure to work with Mark, who put us at ease right away. Quality pergola at a price point which really fit our budget. Don't buy a kit, go with Quality Built Pergola's
Todd Henry