Amish-Built Pergolas in Kentucky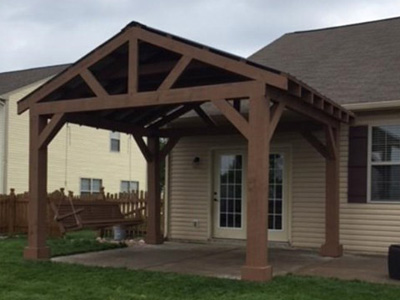 At Quality Built Pergolas, we offer Amish-built pergolas in Kentucky. We design, craft, and install these structures to help you create a backyard paradise that speaks of timeless elegance. You can have the pergolas made using your preferred choice of wood and in sizes that meet your needs.


Amish Milled Lumber
We use Amish milled lumber to craft our elegant, functional, and sturdy pergolas. This lumber is widely cherished in various decorating circles. It is cut and carved using secret, traditional techniques and is known for its exceptional durability. Your pergola will not only be durable and beautiful but will become a long-term investment.

We use only high-quality lumber and when it combines with time-proven craftsmanship and our design ideas and expertise, you will have the perfect pergolas in your home. All the materials we use are hand-selected and pressure-treated to deliver unparalleled durability.

Some of the additional benefits you can expect from our services are as follows:
All the components are milled, sanded, and notched to fit together in a seamless way.
All pergolas feature handsome posts with beautiful, themed designs.
The roofs and all the components are customized to your specific needs and to match your outdoor theme.
Quality Steel Hardware
All our pergolas are designed to last long. One of the important steps we achieve this is by using premium quality components, including steel hardware. These components provide the structure high level of strength and durability. Steel doesn't deteriorate and lasts much longer than other forms of components.

Our skilled craftsmen can ensure that the hardware blends in perfectly with the wooden components, creating a seamless look and feel. We understand that you cherish the look of wooden pergolas that sit perfectly with your backyard and garden and the steel components will not interfere with it.


Superior Wood Finishes
We offer a wide range of wood finishes to help you customize your pergolas to your backyard and personal preferences. Our team will work closely with you to understand what stain you want to use before we start designing and constructing it.

While wood such as pressure-treated pine and cedar are sturdy and have rot-resistant properties, they can be stained for aesthetic purposes. This can also add more years to your pergola.

The variety in terms of styles and finishes allows you to incorporate the structure into your home's architectural style. We can also help you create a completely new outdoor statement with your pergola. Different wood has different grains and natural shades. With staining, we can help you achieve the desired color.

Some of the common material choices include:
Cedar
Exotic hardwood
Redwood
Pressure-treated pine
Pressure-treated pine (PTP) is among the most popular choices for outdoor structures. We suggest proper staining and sealing to ensure your pergolas require minimal maintenance over time. We use Amish milled lumber that adds more durability and longevity to your pergolas.


Endless Pergola Options
When it comes to material and design options for pergolas, there are almost endless possibilities. Some of the wood options that are commonly used include:
Pressure-Treated Wood: They are suited for you if you are on a budget. Our skilled craftsmen can help you get the most out of pressure-treated wood in terms of aesthetics.
Red Cedar & Redwood: These wood options cost more and come with their natural-protective properties.
Tropical Hardwood: If you don't have budget constraints, you can explore tropical hardwood that makes elegant alternatives.
Modified Wood: When it comes to finding the right balance between looks, performance, and price, we can suggest modified wood.
When it comes to design, we can create any style and looks to complement your existing architectural theme while also incorporating your personal preferences into the overall scheme. Some of the popular pergola designs and styles that you can consider for your home include old romantic, minimalist modern designs, private corners, garden pods, retractable canvas shades, blue oasis, wisteria fascination, geometric screens, white lattice panels, and canopy shades to name a few.

We specialize in Amish-built pergolas and deliver high results no matter what design elements you prefer. Some of our popular pergola design options include:
Artisan
Hearthside
Arcadian
Traditional
Kingston
Highly Skilled Installers
When you choose our services, your pergola will be installed by well-trained, highly skilled, and experienced technicians. We employ only in-house installers, and this allows us to implement the highest quality and services standards. We are the pergola specialists. Our installers specialize in a single trade and have mastered all types of materials, designs, styles, and themes that exist in this domain.

At Quality Built Pergolas, we provide our custom pergola and pavilion design and installation services throughout Kentucky. If you want to know more about our services or want to discuss your unique ideas with us, call us at 463-999-6909. We can also be reached via this Online Form.