Pre-Built Pavilions In Ohio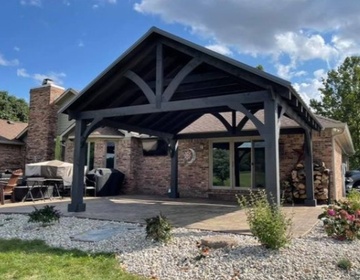 If your home has yard spaces or landscaping, you will want to use these areas optimally. Just as greenery adds life and freshness to the immediate surroundings, outdoor structures like pavilions make these open spaces more usable. We at Quality Built Pergolas are a leading company in the outdoor structures industry and offer a wide range of pre-built pavilions in Ohio.
Our expertise lies in creating unique features that are easy to install. These elements add beauty and value to your home. There are other reasons to install a pre-built pavilion in your garden or landscape. A pavilion provides some protection from the elements, which means you can sit there and enjoy your landscape's beauty at any time of the day and year.
Since these structures are customizable, you can get the styling you want. Our pergolas are the perfect way to improve your backyard's functionality. You can spend time with family and friends or throw a backyard party with the pavilion as the focal point.
Pre-Built Pavilions
These pre-built pavilions have solid structures with metal roofs that provide all-year-round protection from the rain and sun. You can create a unique space by installing an outdoor kitchen, a small fire pit or fireplace, and a grill to turn it into the perfect relaxation or entertainment spot. We can design and supply the best quality pavilions for your lounge area or poolscape. You can choose from standard pavilion kits that are easy to install. Alternatively, we can design customized pavilions with the styling you want.
Amish Built Quality
We are particular about every aspect of our business, and all our superb quality pre-built pavilions are made by experienced Amish craftsmen. These artisans are renowned for their outstanding workmanship and high-quality products. Our professional design team and installers help ensure that your outdoor structure is perfect in every way.
They follow industry standards while focusing on reliability, professionalism, and quality, providing you with excellent value. Our Amish-built pavilions are made using high-grade materials, and every component is designed with precision and care. We source and mill all the raw lumber and handle the measuring, fitting, and construction systematically.
Easy To Assemble
Many people like to handle DIY home improvement projects in their homes, and we offer products that cater to these needs. Our pre-built pavilions are easy to install and come with detailed instructions. We deliver the Amish Pre-built Pavilion Kits in a matter of two to three weeks. Some clients prefer that we handle the installation, and we offer these services as well. We have the skills, resources, and creativity to design and help build the best custom-designed pavilions for you within days.
Numerous Pavilion Options
We recognize that our clients want unique outdoor installations on their properties, so we offer standard and customization options. You will want outdoor features specially built to seamlessly fit into the available space to enjoy your outdoor areas. Our pavilions are a class apart, and we are here to help install one that works best for your needs.
You can select every detail of your new pavilion, including the color, post, and trim styling, bracing structure, roofing panels, shingles, interior ceiling design, and more. Our quality-built pavilions are stylish and straightforward to install, yet highly affordable and functional additions to your backyard. If you want a beautiful addition to your backyard, contact us and discuss your requirement with our knowledgeable team.
They will provide you with the standard or custom pavilion you want to enhance your outdoor area's appeal. For more information about our pre-built pavilions in Ohio, please call Quality Built Pergolas at 463-999-6909. If you prefer to drop us an email, use this Contact Us form, and we will revert within a short while.