Patio Shade Structures in Florida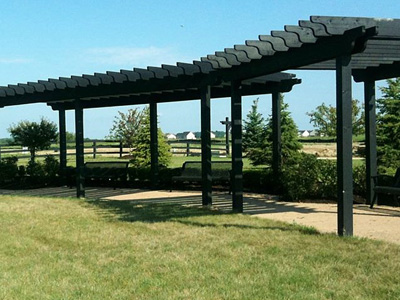 When it comes to landscapes and outdoor spaces, you'll want to make the most of them. In the same way that plants provide vitality and freshness to their immediate surroundings, outdoor structures like patio shade structures improve the use of yard areas. Quality Built Pergolas is a market leader in outdoor shade installations in Florida.

We specialize in developing one-of-a-kind but simple-to-install features. These features raise the aesthetic appeal and monetary worth of your house. Installing patio shade structures and pergolas in backyards or landscaping has additional benefits. Since a patio with an awning, canopy, or cover offers some shelter from the weather, you may use the space underneath it any season to take in the beauty of your surroundings.

Because we can tailor these structures to meet your specific needs, you'll have complete creative control. Our team will work with you, making sure that the shade structure meets your needs. Patios are a great way to increase the use of your garden and the ideal place to gather with friends and family or to host a backyard party. Here is a closer look at the different shade structures we can provide.


Patio Shade Structures
We provide complete outdoor living canopy solutions, ensuring that every component is flawlessly planned and meets your functional and lifestyle requirements. In this regard, there is a multitude of outdoor shade structures available today, including:
Patio covers
Patio canopies
Patio awnings
Pergolas
Gazebos
Pavilions
Patio Covers
If you start browsing for patio covers, you'll see that there are many options, such as 'Two Chicks and a Hammer Patio' pergola kits. For years, we've studied the various materials and goods available on the market, their warranties, and so on. We use this information to help you make a better-educated decision by giving you all the details and specifications you need. The following information will provide you with an idea of the types of patio covers we offer:
We offer customization options for the different types of patio covers
They're low-maintenance and only need hosing now and again
You can get the styling and sizes you need
Aluminum framing ensures utmost strength and durability
Available in patterns like solid and lattice
Provide complete protection from the sun
Patio Canopies
Your yard will benefit from the addition of patio areas, but since they're open to the elements, you may not be able to use them all day or in bad weather. Pergolas are popular with homeowners, but they only give a small amount of shade and no absolute protection from the heat or the rain when built on their patios. It's possible to get more shade while still enjoying your outside space with canopies. These canopies come in various colors and styles, and you can select everything from the shade and color to the size and shape.


Patio Awnings
You'll get a comprehensive variety of services when you choose us, including patio awning design and installation. There is a variety of retractable patio awnings available, and making the appropriate choice means selecting products that will be:
Of the ideal dimensions and form
Designed and constructed flawlessly
Attractive and enhance the appearance of your yard and house
Composed entirely of high-quality outdoor-grade materials
Easy to keep clean
Motorized to make retraction simple
Long-lasting as well as cost-saving

We make sure that the solutions we provide offer you the functionality and value you expect. Our company can install new patio covers and replace existing ones with sturdy and robust modern products. For more information about our pre-built pavilions in Florida, please call Quality-Built Pergolas at 463-999-6909. If you prefer to drop us an email, use this Contact Us form, and we will revert within a short while.