A Quality Built Pergola is the perfect way to turn your backyard into a great new living area. Providing shade, it's great for backyard parties, hangin out with the family, just relaxing... or even to create the perfect focal point for your garden area.
Contact Us
Quality Built Pergolas
(IN, KY, OH, MI, MO, IL, WI, TX)
CALL US: 463-999-6909
CHICAGO AREA
PLEASE CALL: 331-575-5325
FLORIDA
CALL US: 463-999-6909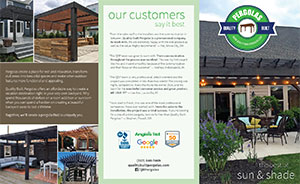 Click here
to view our brochure.
Please complete the form below to send us an email. Fields marked with
*
are required in order to submit the contact form.
AREAS AND REGIONS WE SERVICE IN THE USA:
INDIANA:
Indianapolis, IN | Greater Indiana

ILLINOIS:
Greater Chicago, IL | Central Chicago, IL
OHIO:
Columbus, OH | Cincinnati, OH | Dayton, OH

KENTUCKY:
Louisville, KY | Lexington, KY
MISSOURI:
St Louis, MO

FLORIDA:
Destin Beach, FL | Miramar Beach, FL