Pergola Company in Missouri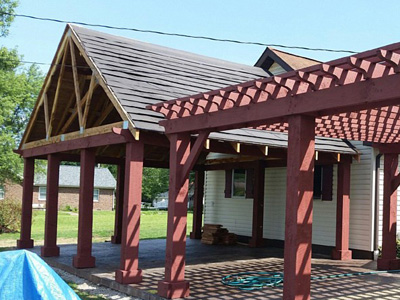 Quality Built Pergolas is a leading pergola company in Missouri, offering a wide range of pergolas in various styles and designs. We specialize in creating rather unique designs and features that are incredibly easy to install. Besides giving your property an aesthetic appeal, it also increases its value.

There are several reasons you should consider having these structures installed in your yard. Pergolas are excellent at providing protection from several elements. This enables you to enjoy spending time there throughout the year. These features are highly customizable, which means that you can opt for any style you want.

It is a great way to increase the functionality of your backyard. You can spend time with your family, entertain guests, or even throw a small party with your patio and pergola being at the center of your landscape. Our team is proactive and will provide input and design ideas, so you get a superb outdoor structure in your yard or landscape. They will make sure that the new pergola is proportionate to the available space and fits in perfectly with the overall design aesthetic.


Pergola Designer
While you may find several pergola kits in standard home improvement stores, the best ones are specifically designed for you. With years of experience designing and installing these features in several properties throughout the areas, we are the company to call. When we custom design a pergola for your property, we will see that it perfectly matches the style of your house. These features provide a considerable amount of shade with a semi-enclosed roof. The beams and columns provide you with the perfect opportunity to add some greenery. Our seasoned designers will help turn this space into a beautiful and peaceful zone.


Pergola Installer
When you consider having a pergola installed on your property, you need to get in touch with a reputed and well-established company. They will have the knowledge and expertise to provide solutions based on your specific requirements. We use the current installation techniques and superior quality materials for all tasks. This way, you can rest assured knowing that your pergola will last you years without any major upkeep.


Pergola Supplier
Outdoor structures like pergolas must be incredibly durable, sturdy, and long-lasting. We offer clients a wide range of pergola kits, including traditional ones; however, we can also design a custom pergola. Our kits come with joists, posts, shade stripping, galvanized hardware, headers, and trim. You can opt from a wide range of colors, at added costs. We offer a 15-year warranty on the exterior paint of your feature.


Pergola Manufacturer
Going to a pergola manufacturer, you will have the option to select every single detail of your pergola. This includes its material, color, bracing structure, trim styling, and post design. These high-quality structures are stylish yet incredibly easy to install, all while being a cost-effective yet functional addition to your property. If you want these features installed on your property, get in touch with us right away. Our team of knowledgeable experts will note down all your requirements and provide you with suitable solutions.

Since we handle everything from the design, manufacture, supply, installation of the pergolas, we have become your best choice of a pergola company in Missouri. Whether you need a pergola kit or want a custom-designed structure, we can help with the best solutions. Our experts are here to provide you with all the information you need so you get the type of outdoor structure you want.

For more information about our pergola supply and installations, please call Quality-Built Pergolas at 463-999-6909. You can also use this Contact Us form to write to us, and we will respond within a short while.