Custom Pergolas In Tennessee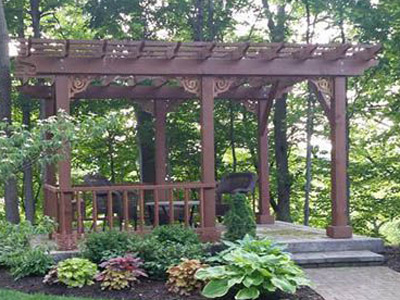 Quality Built Pergolas is a premier pergola company in Tennessee, offering various pergola types and designs. With our expertise in developing unique custom pergola designs, we ensure that our installations are visually appealing and seamlessly integrated into your landscape or yard, ultimately increasing your property value.


Why Choose a Custom-Designed Pergola?
Regarding pergolas, there are several reasons why you should consider a custom-designed installation for your yard. One of the primary benefits is protection from the elements. Our team carefully plans each pergola to ensure it blends harmoniously with your property, creating a seamless and natural fit.

This allows you to enjoy your outdoor space throughout the year. Moreover, our custom-designed pergolas offer extensive personalization options, allowing you to choose the style, color, size, materials, hardware, and more, resulting in a high-quality structure that perfectly aligns with your preferences.


Wooden Pergolas Crafted to Perfection
As a company that handles everything from design to installation, we have become the go-to choice for pergolas in the state. Our pergolas are constructed using Amish-milled timber, highly regarded in decorative circles for its elegance, functionality, and durability.

The timber is meticulously cut and treated using secret, time-tested techniques, ensuring that your pergola boasts timeless beauty and serves as a long-term investment for your property.


Pergolas With The Amish Difference
Opting for an Amish-built pergola offers a multitude of benefits that elevate your outdoor experience, such as:
All pergola elements, from the machined and sanded pieces to the notched joints, are meticulously crafted to ensure smooth assembly.
The attractive posts with themed ornamentation add an extra touch of charm to the structure.
The roofing and other sections are tailored to your unique demands and outdoor aesthetic, guaranteeing a pergola that perfectly suits your needs.
When it comes to durability, our Amish-built pergolas excel. We utilize top-quality materials and stainless-steel hardware, ensuring the structure remains solid and sturdy for years.
The use of steel components adds to the longevity of the pergola, as steel does not degrade and outlasts other materials commonly used in pergola construction.
Our skilled Amish artisans expertly integrate the steel hardware, ensuring a seamless and visually appealing final product that enhances the beauty of the timber components.
Your pergola should reflect your taste and complement your backyard and garden. With Amish-built pergolas, you have access to various wood treatments that can be tailored to your preferences.
While woods like cedar, exotic hardwood, redwood, and pressure-treated pine are naturally durable and rot-resistant, they can also be stained to enhance their aesthetic appeal and prolong their lifespan.
The wide range of designs and coatings available allows you to match the pergola to the architectural style of your home or even create an entirely new outdoor expression with the help of our professional team.
Customized Outdoor Shade Solutions
At Quality Built Pergolas, we understand that your satisfaction is paramount. Our dedicated crew will work closely with you throughout the planning and construction process, ensuring your pergola exceeds your expectations.

We take accurate measurements of the available space, discuss your requirements in detail, and provide expert recommendations to ensure that the final product is precisely sized and styled to enhance the beauty of your yard.

In addition to pergolas, we also provide pavilions and patio shade structures made to order. For more details about our Amish-built pergolas and other outdoor shade products in Tennessee, call Quality-Built Pergolas at 463-999-6909 or email us through this Contact Us form. We will respond shortly. Our team will work with you to understand your needs and provide the perfect solutions within your budget.