Pergola & Pavilion Products
Here at Quality Built Pergolas we offer our clients a range of pergola and pavilion products. We specialize in the installation of pergola and pavilion kits. This is a cost-effective option for our property owners who want to add a statement feature to their outdoor spaces with the added practicality of adding some shade to their outdoor living areas. There are several options for you to select from when ordering one of our kits or you can also request custom quotes for something a little different. It is our goal to ensure that you have the pergola or pavilion that gives the look that you are after for your property as well as the functionality!
Traditional Pergolas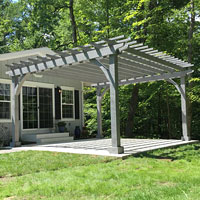 If you have a patio in need of a pergola then we are the right company for the job. We have a range of pergola kits that enables you to select different features for your new pergola. Our Traditional Pergola kits come with all materials and parts includes such as posts, headers, joists and bottom trim with all galvanized hardware. You can choose from a range of colors and all come with a 15-year exterior paint warranty. If you would like to choose a custom color and coating type, then we will need to make a special order, and this will incur a 15% up-charge of the base price of the kit. Read More About Traditional Pergolas >>
Contemporary Pergolas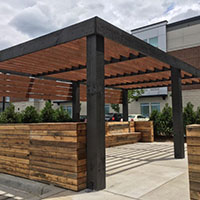 Our contemporary pergola kits are a stunning addition to any outdoor living space. Whether you have an existing patio and would like to add some shade or perhaps you would like to add a pergola anywhere in your landscape setting; the contemporary pergola will be beautiful focal point. Talk to our friendly staff members today about all your options when selecting a contemporary pergola kit. We will guide you through the whole process from selection to installation. Read More About Contemporary Pergolas >>
Commercial Pergolas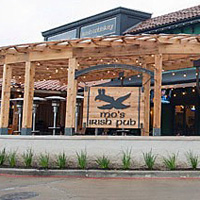 Here at Quality Built Pergolas, we pride ourselves in offering our commercial clients a wide range of options when it comes to their pergola needs and requirements. We want to ensure that the addition of a new pergola for your commercial business site will enhance the overall experience for your clients and employees. Please browse through our gallery of commercial pergolas and if you see something that you like or perhaps you have something in mind, then please don't hesitate to give our friendly team a call today and we will get you on the road to having the perfect pergola for your commercial property! Read More About Commercial Pergolas >>
Custom Pergolas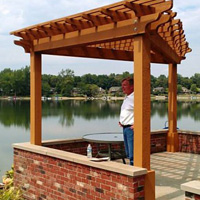 We understand that every property has its own requirements, and each property owner has their own ideas and needs. that is why we offer our clients custom pergola services. this enables you to have the pergola that you have always envisioned and have it unique to your property. No matter what you may have in mind, please don't hesitate, and give us a call here at Quality Built Pergolas today, and we will help you every step of the way in designing and building your new custom pergola! Read More About Custom Pergolas >>
Pavilions
The main difference between a pergola and a pavilion is that a pavilion typically has a closed-in roof that will protect you from the sun and rain. While both pergolas and pavilions can provide you with shade the pavilion also extra protection, so it really depends on what your needs and wants are for your outdoor space. Our pavilion kits offer a range of options so that we can help you create a unique statement piece for your property. The metal roofing with ridge caps in our pavilion kits, enables you to have a place to relax or to entertain that is covered and protected from the weather. Give us a call today for all the information you need on our pavilions! Read More About Pavilions >>
Patio Shade Structures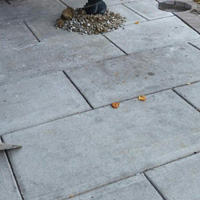 When it comes to building aesthetically appealing and functional patio shade structures you really have come to the right place. We have extensive experience in the shade structure business, and we are ready to take on your project next. Our contractors can install patio canopies, patio covers, roofs and awnings; you name it, we can build it. Gone are the days of sitting in the sun, we now want to be able to have shade and shelter whilst still enjoying the beautiful outdoors with friends and family. Read More About Patio Shade Structures >>
If you are on the market for a pergola or pavilion then give our friendly team a call today at Quality Built Pergolas at 463-999-6909 and we will assist you in selecting the perfect outdoor shade structure for the needs of you and your property!